Landis+Gyr E35C Communication Module for E350 meter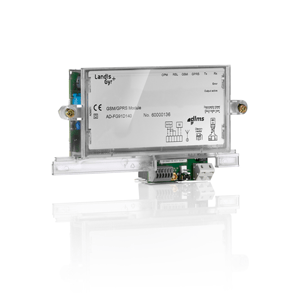 Multi-energy applications set to become reality in the home
The new E35C series from Landis+Gyr has redefined the scope of this tried and tested communications module. You can now manage all utilities consumption via a single communication connection. An integrated M-Bus interface provides a simple means of connecting multi-energy meters. This makes multi-energy applications an affordable proposition for domestic use.
The successful first generation of ZxF meters is based on a communications technology that is modular, making it a safe investment. The new series of modules for domestic use puts promises into practice, paving the way not only for multi-energy applications but also for new services in personal energy management. Additional improvements relate to network quality, remote load switching and the recording of access attempts.
Lower costs for communication…
The E35C module turns an electricity meter into a data center.  Connect up to four water or gas/water meters with the M-bus and manage via two-way communication. Reducing communication connections for all meters to just one not only saves on transfer costs but also simplifies subsequent data-processing.
…and easier installation
The M-bus supports the connection of meters from different manufacturers. For widely scattered measurement points an RF M-bus dongle allows you to connect additional meters wirelessly, thus saving on the expensive installation of cable connections.
From consumption metering to personal energy management
The E35C series from Landis+Gyr gets domestic installations ready for the smart grid age. Maximum consumption- and network quality monitoring functions are key factors for supply companies. The optional connection for the Landis+Gyr ecoMeter terminal allows the customers to access their latest energy costs and to exploit optimizing potential with the resulting positive effects on network load peaks.
Functions
GSM/GPRS interface, Ethernet and PLC versions in the pipeline
Full range of memory options for up to four tariffs and up to eight switching times
Multi-energy: connect up to four additional meters via M-bus
ecoMeter connection
S0 connection, user configured
Digital input, user configured
Remote switching functions for partial loads
Monitoring of contractually agreed maximum supply values including load cut-off for first generation ZxF meters
Recording of manipulation attempts
Network quality detection functions
SMS notifications (GPRS version only)
Downloads
Compatible Meters:
ZCF120AC, ZCF120AB single phase meter
ZMF120AC, ZMF120AB multiphase meter
ZCF120AC, ZCF120AB single phase meter
ZMF120AC, ZMF120AB multiphase meter (series I, series II to be added later)