Landis+Gyr E750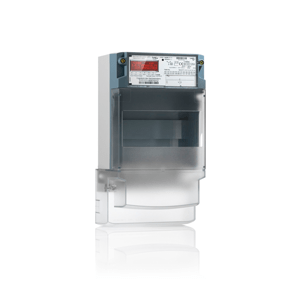 The first truly interoperable and standardized I&C meter
The E750 I&C meter is the first SyM2 meter ever produced. This means that it is interoperable and uses standardized procedures that the three large German utilities, RWE, EnBW and E.ON all wanted and agreed upon. The E750 works with any and all of their metering systems, automatically plugging in, with all appropriate technicians from all three utilities knowing how to install and provision them. No special configuring of the systems or the meters will be required, which will greatly reduce costs.
It also communicates over the internet, using SML to send its data. This means that communications will be much more cost effective and reliable than using traditional means. When the data is ready the metering point sends it to a prescribed server, with all data parameters together, reducing verification processes.
By using a fully integrated modular design a utility can have exactly what they need and want, without having to pay for extra built-in functions that they will never use. With the SyM2 conformity seal an independent body ensures the compatibility and interoperability of devices from different manufactures. This means that whatever modules the utility combines they will automatically work together.
The E750, the first SyM2 meter, with many other innovative design factors, is the most cost effective and versatile I&C meter to hit the Central European market.
For more information contact your local Landis+Gyr representative and ask for the "The E750: More Benefits for I&C Customers" document.
Functions
standardized processes
internet for communications
open specifications (SyM2)
interoperable
true modular design
extremely cost effective
complete data security
interfaces with SyM2 compatible metering systems
Downloads