Landis+Gyr ZME100AC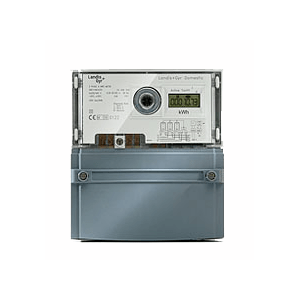 The cost-efficient alternative for the domestic sector
With the ZME100AC, Landis+Gyr has developed a meter for a broad range of applications: it focuses on the necessary functions and offers an excellent price-performance ratio – all without giving up the proverbial Landis+Gyr quality.
Designed as a three-phase electricity meter, the ZME100AC with direct connection can also be used in one- and two-phase environments. Both single and double tariffs can be parameterised externally. Three different metering modes indicate possible theft attempts and incorrect connections:
vectorial calculation (corresponds to the Ferraris model)
sign-dependent summation
sign-independent total summation
Communication included
The determination of the measuring values takes place via the optical interface on the handheld terminal. Alternatively, the S0 pulse output makes the connection possible not only in today's read-out systems, but also in future. Furthermore, with a connection to an external communication module even the smallest household meter from Landis+Gyr is ready for the information technologies of tomorrow.
A reliable value in the accounting process
A decision for the ZME100AC from Landis+Gyr is always a decision for high economic viability: simple installation, long life-cycle and high measuring accuracy. Protection mechanisms against theft give the billing process more security. Integration with additional meters from the Landis+Gyr portfolio is just as simple as accessing the service functions with the universal MAP software.
Features
Direct three-phase connection
DIN version
Single or double tariff
Combined optical test / check outlet
IEC communication protocol
S0 pulse output for remote read-out
Programmable read-out list
Short circuit protection up to 10 kA
External tariff control with two inputs
Two tariff registers
Two total registers
Environmentally friendly disposa
Variations
Accuracy Class 1 (110 AC)
Accuracy Class 2 (120 AC)
One-phase connection (ZCE, termination Q4/06, replaced by ZCG
Downloads

Landis+Gyr Residential Electricity Meter Brochure