Scratch Power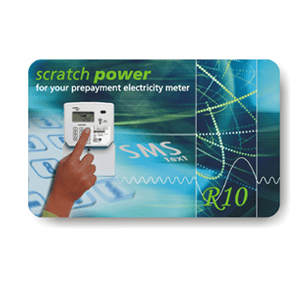 Scratch card system for vending electricity via cellphone
Landis+Gyr's Scratch Power scratch card system uses cellphone communication to vend electricity thereby enabling utilities to make the purchase of electricity more convenient for consumers.
For the utility it reduces the cost of making prepayment vending facilities available to the consumer and for the vendor no computer hardware or point-of-sale devices are required. This system also empowers the utility to sub-distribute electricity scratch card tokens to approved retailers.
Scratch Power interfaces to the utility's existing Suprima system via the e-Vend server with the management taking place via a web browser interface, enabling personnel to easily manage the system via the LAN/WAN. SMS services can be made use of on the Internet as well as via locally-connected GSM modems.
Scratch Power provides a prepayment vending solution for areas with GSM coverage, where no on-line vending points are available. The consumer's cellphone communicates with the Scratch Power server via the GSM network, which in turn communicates with the e-Vend server to generate the credit transfer number which is then communicated to the consumer's cellphone via SMS.