ULTRAHEAT T150 (2WR7…)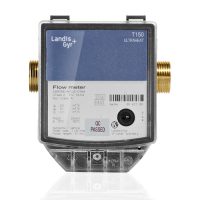 T150 – Reliable ultrasonic flow sensor
The ULTRAHEAT®/ ULTRACOLD® T150 (2WR7…) flow sensor is an ultrasonic volume measurement component for separately approved calculators.
The measurement of flow is performed by the ultrasonic flow principle: opposite sending and receiving transducers send ultrasonic signals alternately with and against the flow direction. The flow rate can be exactly calculated from the difference between the two transit times. The measurement is wear-free and stable over a very long time period. Volume proportional pulses carry this information to a connected calculator.
The meter comprises a flow measuring part (completely made of metal) and an associated electronic unit. These two components are affixed with each other by cable. The flow measuring part is available also in IP65 (Standard: IP54).
The T150 (2WR7…) is easy to install and to handle, it doesn't require straight length of pipe or flow strengtheners and can be installed any way round. The mounting orientation does not affect the measuring range accuracy or the measuring dynamics. The Flow Sensor is insensitive to small particles in the water and operates silently.
Features
Ultrasonic principle
Accurate, rugged, non-wearing
Full-metal measurement tube resistant to soiling
Metrological class 1:100 acc. EN 1434
Total measurement range 1:1000
No straight pipe sections necessary
Battery operated up to 9 years
Automatic data storage on yearly set day and for 36 months
Optical interface acc. EN 61107
Pulse output
Self-diagnostics
Downloads