ULTRAHEAT T350 (2WR6…)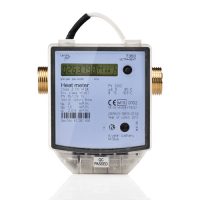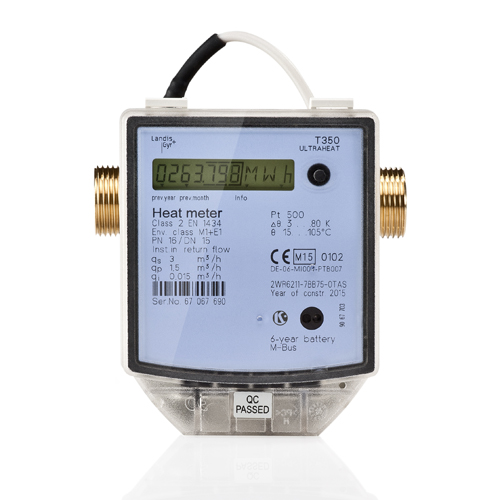 The customer tailored, accurate and reliable heating or cooling meter especially designed for residential applications.
Our ULTRAHEAT®/ ULTRACOLD® T350 (2WR6…) heating and cooling meters are not only accurate and permit easy billing, they are also absolute reliable, long-life and low-cost in demand in building services technology. These meters offer you all that – especially for individual residential needs.
Highest precision
The ULTRAHEAT T350 (2WR6…) uses the ultrasonic flow measurement principle to measure the flow rate: opposite sending and receiving transducers send ultrasonic signals alternately with and against the flow direction. The flow rate can be exactly calculated from the difference between the two transit times. The measurement is wear-free and stable over a very long time period.
With its maximum 105 °C operating temperature and nominal pressure of PN16, the technical specifications meet the standard for residential meters. The high measurement dynamic allows a load of up to double the rating, thereby ensuring high operating security.
Tailored to residential applications
This compact meter fits in even the smallest installation conditions and can be mounted separately from the volume measurement device. A programmable deadline and an additional 15 months of values keep the calculation of heat costs transparent. The meter also has an optical interface and order option for remote read-out (M-bus or pulse output). The large display shows the deadline date and monthly consumption in addition to the current values, thus making heat cost calculations easier to understand.
Features
Ultrasonic principle
Accurate, rugged, non-wearing
Full-metal measurement tube resistant to soiling (DuraSurface™)
No moving parts, so no mechanical wear
No straight pipe sections necessary
Measuring range of flow 1:1000 acc to EN 1434
Total range 1:1500
Battery operated up to 11 years or 24V AC/DC external supply as special version
Optical interface for read-out with hand-held terminal
Pulse output  or M-bus (optional)
Downloads