Landis+Gyr RCR Ripple Control Receivers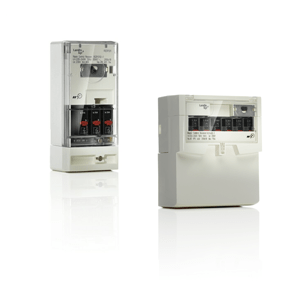 Smart combination of ripple control and timers
Ripple Control is a mature and cost-effective technology for tariff and load control. Landis+Gyr Ripple Control Receivers RCR cover a wide range of applications from simple remote switching of the relays to individually parameterizable timers.
RCR140
Landis+Gyr Ripple Control Receivers RCR140 support the "BASIC" function concept for simple remote switching functions. The RCR140 can be equipped with up to four 25 A plug-in changeover switches or 40 A on/off switches. Interpreter programs allow any allocation of command and address to the relay.
RCR131 / RCR161
Landis+Gyr Ripple Control Receivers RCR131 / RCR161 support the "CHRONO" function concept with a 7-day time switch, weekday preview for balancing the transmission system, and learn functions for independent execution during transmission failures.
The integration of ripple control and time switch functions in one device offers a unique flexibility. Depending on the device type, up to six 25 A changeover switches can be plugged-in and individually parameterized via interpreter programs.
The following types are available:
RCR131 with up to 3 plug-in power relays and compact housing
RCR161 with up to 6 plug-in power relays
Parameterization Software RTP01 for PC and notebooks
The parameterization software RTP01 allows easy programming of the receivers. Up to 16 programs can run in parallel, 4 of them with random time functions. Data transfer takes place via infrared interface or, for the RCR131 and RCR161 via a plug-in data carrier available as an option.
Field Programming Software RPT01mobile for PDA's

RPT01mobile is a software application that can be installed on PDA's running Microsoft Windows Mobile 5.x or 6.x and allows easy onsite parameterization of Landis+Gyr ripple control receivers and load switch devices.
Any data files generated with the parameterization software RPT01 can be assigned to each relay. Thanks to a smart search function, parameter sets can be easily selected and uploaded into the receiver.
Functions
Memory for 8-16 independent switching programs
Programmable behavior during power outage and return
Relay confirmation
Automatic pulse deviation correction
Operation status display via LED
Test button
RCR131 / 161 only:
Transmitter outage detection
Event-log memory for 2,500 inputs
Time and memo lines
Learn function for switching times
Variations
Operating voltage 110 V
Plug-in data carrier
Custom parameterization in our works
Backup clock with 36 h operating autonomy (RCR131/161)
Large terminal cover
Downloads